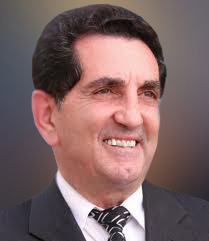 EDUCATION
University of Buffalo, J.D.
University of Miami, B.A.
ADMITTED
HONORS AND AWARDS
Marquis Who's Who in American Law®
AFFILIATIONS
California Bar Association
New York Bar Association
Louis P. Pilato
Mr. Pilato, who is licensed to practice law in both California and New York, is a high energy and detail oriented attorney with over 30 years of experience in the areas of criminal and civil law, and as a skilled litigation attorney.
His background includes over 10 years as a prosecutor where he became the chief trial attorney and engaged in well over 150 jury trials and countless non-jury proceedings and hearings. As a prosecutor, with a 95% conviction rate, he was involved in high profile matters, which included over 30 homicide trials, organized crime or gang situations, violent sexual offenses, bank robberies, home invasion matters, etc.
He subsequently operated and managed a general practice law firm where the focus of attention was on representing individuals charged with crimes and in that capacity has been involved in over 200 jury trials. He handles all types of criminal matters in local, state, and federal courts, ranging from homicides and robberies to significant misdemeanor matters. Through his experience as a prosecutor, Mr. Pilato gained invaluable insight into the attitudes and procedures being utilized by law enforcement agencies and officers, which he uses in representing clients charged with criminal offenses. As a defense attorney, Mr. Pilato has a 80% rate of acquittal, which has resulted in him being recognized as one of the premier defense attorneys in the area. He often receives referrals from other attorneys or law firms to take matters to trial when they are not able to negotiate a reasonable deal for their clients.
As for the civil side, his experience includes matters involving business, contracts, employment, real estate, personal injury, medical malpractice, and white collar matters. He exercises sound judgment in analyzing complex and sensitive issues, and he works well under pressure. Further, although he is very skillful at resolving matters through negotiation or mediation, he is extremely comfortable in the courtroom and never fears fighting for his clients before judges and juries, having successfully engaged in well over 400 jury trials, and countless nonjury proceedings and hearings.
He also knows that the two pre-requisites for a favorable end result are establishing a trusting relationship with his client and then conducting a thorough and exhaustive investigation so that he is fully prepared for whatever might arise in the matter.  His successes have resulted in him being cited in Marquis Who's Who In American Law® on multiple occasions.
While he routinely engages work in Southern California, including Los Angeles, San Bernardino, Riverside, Orange County, and San Diego areas, he can and has represented individuals throughout the entire state.
To contact Louis P. Pilato, please call (949) 939-6320 or email [email protected]
REPRESENTATIVE MATTERS AND CLIENTS
Criminal Defense
Client Charged with Intentional and Felony Murder – At the conclusion of a two-week trial, not guilty verdicts secured on all charges.
Client Charged with Criminal Sexual Act and Sexual Abuse – Following motion arguments and trial, almost all charges dismissed or resolved with not guilty verdicts and sole conviction for the lesser charge of sexual abuse resulted in a sentence of probation.
Client Charged with Two Separate Sets of Charges Dealing with Possession and Sale of Drugs Based Upon Alleged Hand-To-Hand Transactions with Undercover Officer and Execution of Search Warrants – This matter never went to trial.  Legal research and ingenious motion arguments resulted in dismissal of all charges.
Client Charge with Multiple Sales of Drugs to Police Informants – Investigation and plea discussions resulted in resolution of charges with a plea to a lesser charge and sentence of probation.
Client Charged with Multiple Burglaries and Larcenies Based Upon Fingerprint Evidence – End result of investigation and trial, including effective cross examination of the fingerprint technician, was acquittal on all charges.
Client Charged with Home Invasion, Burglary, and Robbery – Investigation and discussion with authorities resulted in withdrawal of all charges.
Client Charged with a Bar Room Assault With Broken Bottle – End result of trial was acquittal on all charges.
Client Arrested and Convicted for Attempted Murder of a Police Officer and Was Sentenced to Life Imprisonment While Represented By Another Attorney – Hired to handle the appeal with the end result of the conviction being reversed and re-trial of case which resulted in acquittal.
Multiple Clients Arrested for DUI With The Additional Claims That Their BAC Level Was Higher Than .08 – On all of these matters, Mr. Pilato's first task was to attempt to obtain a dismissal of the charges based upon negotiation with the prosecutor and/or motion argument.  If that is not successful,  the matters are taken to trial.  As of today's date,  the results of the various trials have been acquittals on  80%  of  the  charges,  a figure consistent  with  his  prior  record  and amazing in light of community attitude about DUI matters.