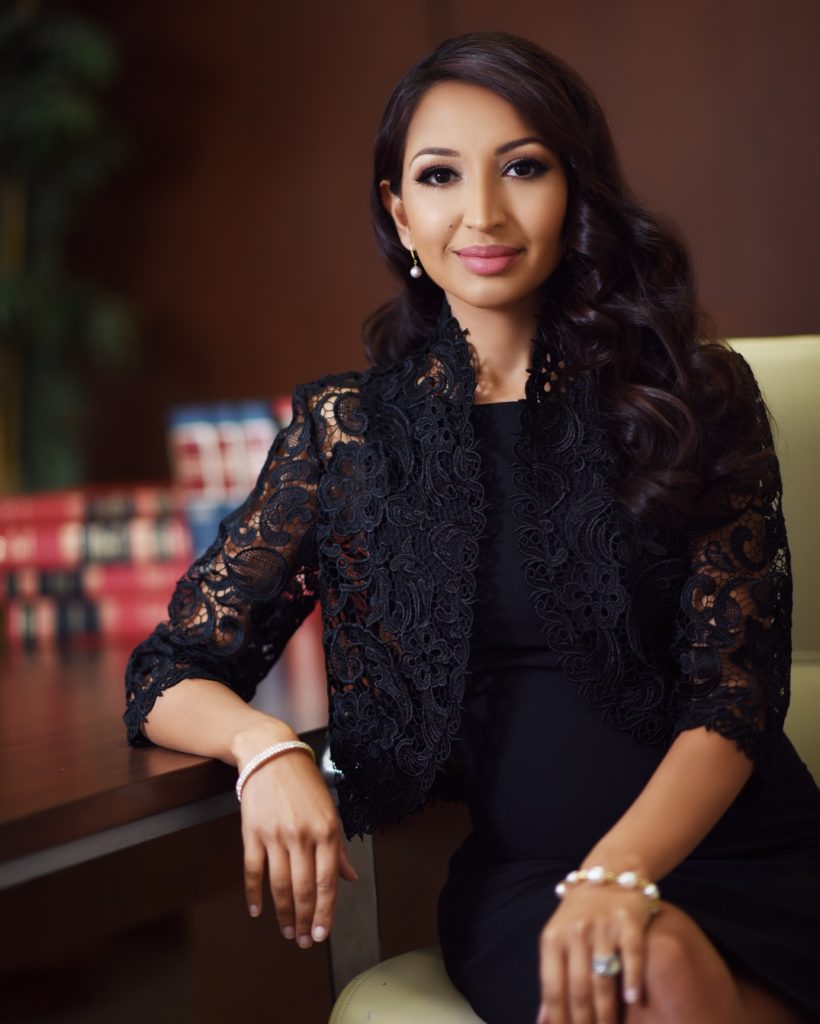 EDUCATION
Emory University School of Law, J.D., 2008, Emory Journal Of Intellectual Property Law, Committee Member, Dean's List, State Bar of California Writing Competition, Second Place Winner
University of California, Los Angeles, B.A., 2004
The Buckley School, 2000
ADMITTED
HONORS AND AWARDS
Los Angeles Magazine – Top Women Attorneys of Southern California
Super Lawyers Rising Star
Lawyers of Distinction
 Avvo Superb Rating
America's Most Trusted Attorneys
AFFILIATIONS
Beverly Hills Bar Association
Ethical Lawyers of America
Studio City Chamber of Commerce
American Bar Association
Sapana K. Shah
Voted as a Top Women Attorney in Southern California by Los Angeles Magazine, Sapana K. Shah is the founder of the Shah Grossi law firm. She is an outstanding business and corporate attorney based in Los Angeles, California and licensed in California and Georgia.
After attending Emory University School of Law, Ms. Shah began her career clerking for Judge Susan M. Speer at the Superior Court of California where she advised on evidentiary issues and drafted opinions and bench memos. She thereafter transitioned into private practice, where she worked for local, national, and multinational law firms. As a first year associate at a litigation boutique firm, she immediately second-chaired multi-million dollar trials in commercial and real estate disputes involving fraud, RICO, and breach of contract claims. Her litigation experience includes trial and appellate advocacy in federal and state courts as well as arbitration and mediation proceedings.
After working exclusively in litigation for several years, Ms. Shah joined a multinational firm where she served as counsel for businesses that span from small "mom and pops" to Inc. 500 and Fortune 500 companies. She assisted many of the firm's business clients from start-up through established success, servicing in the areas of corporate structuring and governance, intellectual property, real estate, commercial transactions, mergers and acquisitions, labor and employment law, and bankruptcy. Many of the issues that arose required Ms. Shah to work regularly with the Federal Trade Commission, the IRS, and the California Franchise Tax Board. She served as a general outside counsel to companies doing business globally, with a particular emphasis on the Indian and South Asian markets.
With her unique background and broad range of experience, Sapana K. Shah founded Shah Grossi in 2014 where she serves as general counsel for several multi-million dollar companies across various industries, with particular emphasis in dental/medical, restaurant, technology, and retail industries. Ms. Shah also serves as counsel to both franchisors and franchisees. Her franchise law practice encompasses the preparation and filing of Uniform Franchise Offering Circulars for both new and currently existing franchisors, the negotiation and preparation of multi-jurisdictional and multi-unit franchise agreements and area development agreements, and acquisition transactions involving currently existing franchises.
Sapana K. Shah has received several awards since establishing her firm. Not only is she a member of Super Lawyers – an exclusive legal rating service which uses a patented multiphase process to select cream-of-the-crop lawyers who have attained an exceptional degree of peer recognition and professional achievement in their respective fields, but she has also been selected as a Rising Star – a feat accomplished by no more than 2.5 percent of lawyers. This accolade is bestowed upon lawyers who are only 40 years old or younger, or have only been in practice for 10 years or less, yet have garnered accomplishments equal to those of the most well-established, prestigious law firms in the nation.
Ms. Shah is a member of Lawyers of Distinction – placing her in the top 10% of all attorneys in the United States.  Lawyers of Distinction uses it own independent criteria, including both objective and subjective factors in determining if an attorney can be recognized as being within the top 10% of attorneys in the United States in their respective field.
Ms. Shah is proud to have a perfect 10.0 Avvo 'Superb' rating. She is also a recipient of Avvo's prestigious Client's Choice Award. Avvo is one of the most prominent, well-regarded online legal services marketplace. Its respected lawyer rating system uses a complex algorithm to makes a snapshot assessment of a lawyer's background. There is no bias in the Avvo rating system, and higher ratings cannot be bought by attorneys.
As a lifetime member of Ethical Lawyers of America, Ms. Shah is dedicated to promoting honesty, integrity and civility in the legal profession. All lawyers listed with Ethical Lawyers of America – less than 1% of all practicing lawyers in the country – have achieved national recognition as one of America's Most Trusted Attorneys®.
To contact Sapana K. Shah, please call (213) 927-6980 or email [email protected]
REPRESENTATIVE MATTERS AND CLIENTS
Litigation and Dispute Resolution
Tripp v. Sharon Michael and Custom Brokers, Inc. – Prevailed on all claims at trial, recovering attorneys' fees and punitive damages, against real estate brokerage firm on claims of fraud and breach of contract.
Lead counsel in an asset forfeiture action brought by the United States Attorney's Office and related investigation into alleged money laundering. Successfully moved for a motion to dismiss and obtained complete dismissal in favor of client.
Lead counsel in arbitration hearing on behalf of corporate shareholder involving conversion, breach of contract, and breach of fiduciary duty claims. Obtained judgment, including attorneys' fees, confirming arbitration damage award in favor of client. Successfully garnished multiple accounts through post-judgment collection litigation.
Lead counsel in defense of large technology firm in an employment litigation suit involving alleged violations of Family Medical Leave Act, Title VII of the Civil Rights Act of 1964, California Labor Code, and claims of retaliation, harassment, hostile work environment, wrongful termination, and emotional distress. Successfully resolved through settlements and dismissals after successfully defending a motion for summary judgment.
Commercial Real Estate and Development
Negotiate commercial lease agreement for major multi-billion dollar U.S. public company
Regularly counsel and negotiate commercial lease agreements and purchase agreements for small to mid-sized companies across various industries including hospitality, restaurant, and dental industries.
Commercial Transactions
Represent buyers, sellers, and lenders on business purchase and sales. Transactions have included dental practices, restaurants, and software and technology firms.
Negotiated international supplier and vendor agreements, including distribution agreements with major multi-million dollar manufacturing companies in Italy, France, and Hong Kong.
Franchise and Distribution
Negotiated settlement on highly favorable terms on behalf of franchisee in breach of contract action filed by franchisor Wyndham Hotel Group.
Negotiated franchise agreement and area development agreement on behalf of U.S. based restaurant group for U.A.E. company formation and G.C.C. expansion.
Assist franchisors in preparing franchise disclosure documents for franchise registration and counseling on information that is necessary to be disclosed, particularly with respect to unusual facts, circumstances, and transactions.
PUBLICATIONS
"'Universal Jurisdiction Chokes Loathing Diction': Using Universal Jurisdiction to Regulate Internet Hate Speech," California International Law Journal
"Islamic Banking and Finance: Shari'a – Compliance and the Reinterpretation of Riba," California International Law Journal