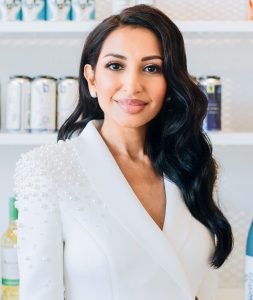 Sapana S. Grossi
Education
Emory University School of Law, J.D., 2008,

Emory Journal Of Intellectual Property Law, Committee Member

, Dean's List, State Bar of California Writing Competition, Second Place Winner

University of California, Los Angeles, B.A., 2004

The Buckley School, 2000
Admitted
Honors And Awards
Los Angeles Magazine – Top Women Attorneys of Southern California

Super Lawyers Rising Star

Lawyers of Distinction

Avvo Superb Rating

America's Most Trusted Attorneys
Affiliations
Beverly Hills Bar Association

Ethical Lawyers of America

Studio City Chamber of Commerce

American Bar Association
Sapana S. Grossi
Sapana S. Grossi is the founder of the Shah Grossi law firm. Ms. Grossi has broad experience serving as outside counsel to businesses and high net worth individuals and represents them in all facets of litigation and business transactions. She assists the firm's business clients from start-up through established success, servicing in the areas of formation and capitalization, corporate restructuring and governance, intellectual property, real estate, commercial transactions, mergers and acquisitions, and labor and employment law. Ms. Grossi's litigation experience includes trial advocacy in federal and state courts, arbitration and mediation proceedings, as well as administrative agencies, including the Federal Trade Commission, the Internal Revenue Service, the California Franchise Tax Board, and the California Department of Alcoholic Beverage Control.
Ms. Grossi has in-depth experience in the hospitality, food and beverage, and healthcare industries. In the food and beverage area, she represents restaurant groups, hotel owners/operators, craft breweries, and wineries in connection with alcoholic beverage license applications, transfers, compliance, and regulatory matters. In the healthcare area, she represents dentists and physicians in all aspects of the purchase and sale of their practices, governance, and employment matters.
Ms. Grossi serves as counsel to both franchisors and franchisees. Her franchise law practice encompasses the preparation and filing of Uniform Franchise Offering Circulars for both new and currently existing franchisors, the negotiation and preparation of multi-jurisdictional and multi-unit franchise agreements and area development agreements, and acquisition transactions involving currently existing franchises.
Ms. Grossi has received several awards since establishing her firm. She has been selected as a Super Lawyer Rising Star each year from 2016 through 2020 – an award given to no more than 2.5 percent of lawyers – and is bestowed upon lawyers who are only 40 years old or younger, or have only been in practice for 10 years or less, yet have garnered accomplishments equal to those of the most well-established, prestigious law firms in the nation. Ms. Grossi has been voted as a Top Women Attorney in Southern California by Los Angeles Magazine, received the Avvo Superb Rating and Client's Choice Award, and is a member of America's Most Trusted Attorneys.
Ms. Grossi earned her J.D. from Emory University School of Law and her B.A. from University of California Los Angeles. She has clerked from Judge Susan M. Speer at the Superior Court of California where she advised on evidentiary issues and drafted opinions and bench memos. She is admitted to practice in California and Georgia.
REPRESENTATIVE MATTERS AND CLIENTS
Lead counsel in an asset forfeiture action brought by the United States Attorney's Office and related investigation into alleged money laundering. Successfully moved for a motion to dismiss and obtained complete dismissal in favor of client.

Lead counsel in arbitration hearing on behalf of corporate shareholder involving conversion, breach of contract, and breach of fiduciary duty claims. Obtained judgment, including attorneys' fees, confirming arbitration damage award in favor of client. Successfully garnished multiple accounts through post-judgment collection litigation.

Lead counsel in defense of large technology firm in an employment litigation suit involving alleged violations of Family Medical Leave Act, Title VII of the Civil Rights Act of 1964, California Labor Code, and claims of retaliation, harassment, hostile work environment, wrongful termination, and emotional distress. Successfully resolved through settlements and dismissals after successfully defending a motion for summary judgment.
Negotiate commercial lease agreement for major multi-billion dollar U.S. public company
Negotiated international supplier and vendor agreements, including distribution agreements with major multi-million-dollar manufacturing companies in Italy, France, and Hong Kong.
Negotiated settlement on highly favorable terms on behalf of franchisee in breach of contract action filed by franchisor Wyndham Hotel Group.

Negotiated franchise agreement and area development agreement on behalf of U.S. based restaurant group for U.A.E. company formation and G.C.C. expansion.
PUBLICATIONS
"'Universal Jurisdiction Chokes Loathing Diction': Using Universal Jurisdiction to Regulate Internet Hate Speech," California International Law Journal

"Islamic Banking and Finance: Shari'a – Compliance and the Reinterpretation of Riba," California International Law Journal
To contact Sapana S. Grossi, please call (213) 927-6980 or email [email protected].
California Employment Laws: Changes for 2023
Overview: New employment laws in California are here, with topics ranging from bereavement leave to cannabis use.  Here's a quick rundown: AB 1041:  [...]
The Post-COVID Business Climate: Manifest Your Destiny as Restaurateur
Overview: Yes, we know COVID isn't over yet.  However, it looks to be on a significant downturn and will hopefully be in our [...]
Los Angeles County COVID Rules – January 2022 Employment Update
Overview: Per the latest COVID-19 health order of the LA County Department of Public Health dated January 10, 2022 (the "Health Order"), there [...]